My Beloved Sonoma County
I was neither born nor raised in Sonoma County but I have been connected to this spectacular place since I was two years old.
I swam in the Russian River and played on its beaches during vacations with my mother, who was born in Napa, and my half sister. While still a toddler, I recognized the rows of towering eucalyptus trees along Lakeville Highway: it was my portal, my gateway to this spectacular place. In grammar school, I explored our coastal tide pools for science projects and, in high school, I lounged on our beaches and camped in our parks.
As soon as I was able, I moved to a dairy farm in Lakeville, near the entrance to that gateway of magical trees and raised my two girls in their shadow before moving west to Sebastopol.
From the day I arrived, I shopped at farm stands, a drive-in raw milk dairy, and the docks of Bodega Bay, where I bought salmon and crab. I gardened, too, and visited our redwoods, hiked our hillsides, picnicked at wineries, gathered wild blackberries and absorbed all I could in every way.
Sonoma County is in my blood. In this section, I share all that I love about this place.
Today in Sonoma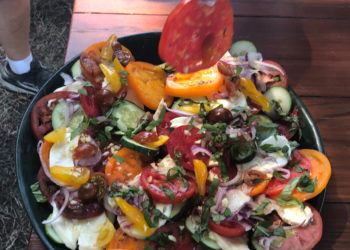 Plums, peaches, and nectarines may be gone or nearly so but much of summer's harvest continues well past the beginning of fall. Some foods that we associate with summer, especially melons, often peak in September and October. And if we don't have an early winter, if temperatures remain warm and early rains are not too […]