If you prefer your homemade tea to those you can buy when you are out and about, you'll love this new travel set up from Piao I and sold domestically by Pure Puer.
It is made with a sturdy glass–borosilicate–that tolerates temperatures up to 1112 degrees and withstands sudden temperature changes without cracking. It can go from the refrigerator to holding hot tea.
The Glass Travel Buddy is fitted with a stainless steel filter that allows you to make the tea directly in the bottle. The jar's seals are made with the same material that is used to make the nipples of baby bottles, a type of material that does not leach any BPA polycarbonate or transmit off flavors to your drink.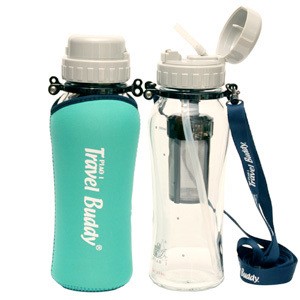 If you prefer to sip your tea from a straw, this is the travel bottle for you.
This travel container, which contains no straw, comes in a tight-fitting redjacket with a handle/strip that makes it easy to carry. If you prefer a straw, you'll ant to take a look at the Travel Buddy Tea Infuser, which has an auto-straw attached.
Read about Pure Puer's newest teas here.