Ploughman's Lunch
Today, we see Ploughman's Lunch offered in British-style taverns throughout the United States but its history extends back to England, where it was the traditional midday meal, packed in a lunch tin and eaten in the fields. At its core is good bread, English cheese, mustard, chutney and beer, with pickles, fruit, hard-cooked eggs and some sort of meat common additions. Variations on this theme are nearly endless and even somewhat arbitrary. Use what appeals to you and what you may have on hand.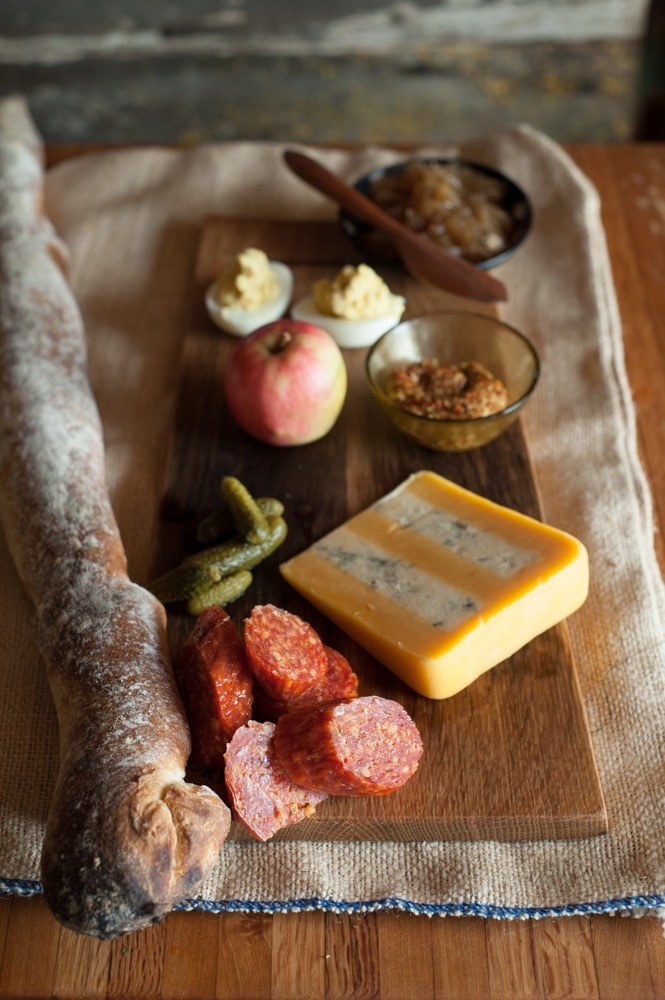 You'll find my recipe for Deviled Eggs here.
Serves 3 to 4
Cook Time: 10 Min
Ingredients
4 deviled eggs
1 apple, plum, or other seasonal fruit
Pickles or cornichons
8 ounces salami, dry sausage, or similar cured meat
1 wedge of cheese, 4 to 6 ounces, such as Huntsman (pictured), Montgomery Cheddar or Cotswold

2 tablespoons chutney of choice, in a small bowl
2 tablespoons coarse-grain mustard, in a small bowl
1 rustic baguette
Chilled cider or beer of choice
Directions
Make the deviled eggs, if you have not already done so.

Set all the ingredients on some sort of flat serving platter, preferably made of wood, add appropriate implements, set the bread alongside and enjoy, using your hands to tear off pieces of bread.