As I say in my posting of links to a couple of dozen Sauvignon Blanc pairings and about a dozen Rosé pairings, any pairing of food and drink is a snapshot in time, influenced not only by the natural compatibility of the food and its accompanying beverage but also by the entire environment, including how you feel and who your companions are. A case can even be made for music having a profound impact on how a wine tastes. As always, use these links and descriptions for inspiration; you do not need to search out the specific wine, which may no longer be available anyway. (The links will take you to the full articles, where you'll find descriptions of the wine, the range of foods that it flatters, and a recipe.)
You can read my ode to pinot noir, Sex & a Single Grape here.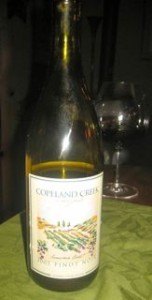 Copeland Creek 2005 Pinot Noir with Williams Ranches Rack of Lamb, Roasted Asparagus, Roasted Spring Onions, and Potato Puree.  Copeland Creek was a project of Don Baumhefner, who knows pinot noir as well as anyone and who has made some of my favorites. He no longer has access to Copeland Creek Vineyards but he is making outstanding sparkling wines.
Bucher Vineyards 2014 Russian River Valley Pinot Noir with Sweet Onion Galette
Olema 2014 Sonoma County Pinot Noir with Slow-Roasted Salmon Salad & Tarragon Vinaigrette
Cherry Tart 2014 Pinot Noir with Early Summer Fattoush with Cherry Tomato Vinaigrette & Yogurt Tahini Sauce
Iron Horse Vineyards 2013 North Block Pinot Noir with Black Chanterelle Risotto
Edna Valley Vineyards 2014 Central Coast Pinot Noir with Beef & Winter Squash Soup
Freeman Vineyard & Winery's 2013 Russian River Valley Pinot Noir with Carrot Salad with Black Olives, Pecans, Pomegranates, and Feta
Husch 2013 Anderson Valley Pinot Noir and a Composed BLT Salad
Inman Family Winery 2013 Russian River Valley OGV Estate Pinot Noir with Sausage, Rice & Bean Sald with Warm Bacon Vinaigrette
Decoy 2013 Sonoma County Pinot Noir with Eggplant Polpettine & Yogurt Tahini Sauce
MacMurray Ranch 2013 Russian River Valley Estate Vineyards Pinot Noir with Wild Pacific King Salmon with Beets, Morels, & Brown Butter
La Crema 2013 Sonoma Coast Pinot Noir with Dried Cherry Gremolata
Three Sticks 2012 Sonoma Coast Gap's Crown Vineyard with Wild Mushroom Polenta
MacRostie Russian River Valley Pinot Noir with Slow-Cooked French Onion Soup
Truchard 2012 Carneros Napa Valley Pinot Noir with Malaysian Chicken Rice
Kenwood Vineyards 2012 Russian River Valley Pinot Noir with Hamburger Slides & Pinot Noir Butter
La Crema 2012 Los Carneros Pinot Noir with Slow-Cooked Salmon, Bacon, Fried Tomatoes & Beurre Rouge
Pfendler Vineyards 2012 Sonoma Coast Pinot Noir with Flageolets & Lamb Shanks
SaveSave